Honey and Clover (ハチミツとクローバー Hachimitsu to Kurōbā) is a Japanese television drama based on the manga of the same name by Chica Umino. The drama aired from January 8, 2008 to March 18, 2008 on Fuji TV.
The drama stars Riko Narumi as Hagumi Hanamoto, Toma Ikuta as Yuta Takemoto, Hiroki Narimiya as Shinobu Morita, Osamu Mukai as Takumi Mayama, and Natsuki Harada as Ayumi Yamada.
Hagumi Hanamoto has just moved to Tokyo to attend an art college. She is a genius painter but an extremely shy girl. One day in April, Yuta Takemoto, a junior majoring in architecture, spots Hagumi near a pond within the campus and instantly falls in love with her. She turns out to be the assistant of Professor Hanamoto as well as his second cousin. A few days later, Yuta's college hosts an art exhibition contest. The winning painting was a dynamic piece of work by Hagumi. Yuta's friend Shinobu Morita, a sculpture major, had been winning the contest every year. He takes one look at the painting and runs off. Yuta runs after him and arrives at Professor Hanamoto's office. Shinobu finds Hagumi there and hugs her out of the blue. "It's been a while since I saw a painting that grasped my heart like that" he says. "I like your work too" she replies. Yuta is shocked to see the bond between the two.
Also, Yuta's friend, Ayumi Yamada has a crush on classmate Takumi Mayama. But Takumi has fallen in love with Rika Harada, a designer who he works for part time. The dynamics between the group of five friends is explored throughout their years in college.
Cast and characters
Edit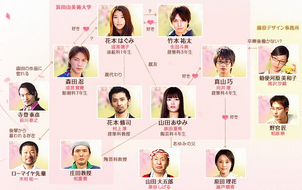 Ep #
Title[1][2]
Director
Airdate
1
"Spring, the moment I fell in love"
"Haru, koi ni ochita shunkan" (春、恋におちた瞬間)
Masaki Tanimura
January 8, 2008
2
"Ocean, tears, and a kiss won by lottery"
"Fukubiki de ateta umi to namida to kisu" (福引であてた海と涙とキス)
Masaki Tanimura
January 15, 2008
3
"Summer, a crush scattering like firework"
"Natsu, hanabi to chitta kataomoi" (夏、花火と散った片思い)
Hiroaki Matsuyama
January 22, 2008
4
"A tearful confession of love sent on Christmas Eve"
"Seiya ni todoku, namida no kokuhaku" (聖夜に届く、涙の告白)
Hiroaki Matsuyama
January 29, 2008
5
"I don't have to be your number one"
"Ichiban no sonzaidenakute mo ī" (一番の存在でなくてもいい)
Masaki Tanimura
February 5, 2008
6
"How can you become an adult"
"Ichininmae ni wa naze naremasu ka" (一人前にはなぜなれますか)
Shota Sasaki
February 12, 2008
7
"Forward on an unmapped road"
"Ima, chizu no nai michi o mae e" (今、地図のない道を前へ)
Masaki Tanimura
February 19, 2008
8
"Missing person! Losing sight of life and love in winter"
"Shissō! Jinsei to koi o miushinau fuyu" (失踪! 人生と恋を見失う冬)
Hiroaki Matsuyama
February 26, 2008
9
"A miraculous confession of love, a shocking accident"
"Kiseki no kokuhaku, shōgeki no dai jiko" (奇跡の告白、衝撃の大事故)
Masaki Tanimura
March 4, 2008
10
"Abyss of despair, the path that binds the two together"
"Zetsubō no fuchi, futari o musubu michi" (絶望の淵、ふたりを結ぶ道)
Hiroaki Matsuyama
March 11, 2008
11
"A love to be proud of"
"Mune o hareru ī koidatta" (胸を張れるいい恋だった)
Masaki Tanimura
March 18, 2008
Production
Edit
Masaki Tanimura, Hiroaki Matsuyama, and Shota Sasaki each directed episodes, and Shigeki Kaneko wrote the screenplay of the series. Honey and Clover was produced by Madoka Takiyama (Fuji TV)[3] and Tsugi Shikanai (First Kiss, Tokyo Dogs). Shin Kono, Shogo Kaida, and Keiichi Miyako (SOPHIA) worked on the music.
Honey and Clover aired on Fuji TV's 9:00 PM time slot from January 8, 2008 to March 18, 2008. After eleven episodes, the drama was replaced with another manga adaptation, Absolute Boyfriend.
Soundtrack
Edit
Main article: Drama Honey and Clover soundtrack
The soundtrack for Honey and Clover was published on March 12, 2008 under the label, Def Star Records. The strings version of the theme song, "Canvas" as well as nineteen other track are included on the album.
DVD release
Edit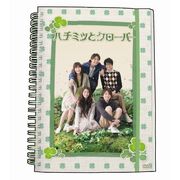 All eleven episodes of
Honey and Clover
was released on a box set on July 11, 2008 by
Pony Canyon
. The first box sets were sold with an
omamori
sticker, a booklet, and a postcard. Bonus features on the seven DVDs include, original discussion footage, making-of, creditless outro theme, the short episode "Mayama no Megane", original final episode and a fashion and art guide.
[4]
References
Edit
Ad blocker interference detected!
Wikia is a free-to-use site that makes money from advertising. We have a modified experience for viewers using ad blockers

Wikia is not accessible if you've made further modifications. Remove the custom ad blocker rule(s) and the page will load as expected.