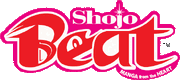 Shojo Beat is a North American shōjo manga magazine formerly published by Viz Media. Released in June 2005 as a sister magazine to Shonen Jump, it featured chapters from six manga series, as well as articles on Japanese culture, manga, anime, fashion and beauty. Viz launched related "Shojo Beat" imprints in its manga, Japanese light novel, and anime divisions to coordinate with the magazine's contents. In May 2009, Viz announced that they were discontinuing the magazine with it's last issue in July 2009.
Honey and Clover was partially serialized in Shojo Beat from September 2007 to July 2009. It was also one of the last titles in Shojo Beat.
External links
Edit
Ad blocker interference detected!
Wikia is a free-to-use site that makes money from advertising. We have a modified experience for viewers using ad blockers

Wikia is not accessible if you've made further modifications. Remove the custom ad blocker rule(s) and the page will load as expected.